Our City within a Park: Designing social infrastructure for Toronto's urban ravines
Overview:
The Toronto Charrette is an annual IwB event that brings together 200 plus students, faculty and industry experts from organizations around the world. In 2015, the charrette theme was Toronto's urban ravines, specifically how to stimulate new social infrastructure in the city's ravine systems.
The charrette was called "Our City within a Park." It focused on 6 themes with which to transform the way we make use of the extensive river and ravine networks in Toronto: alternative and affordable housing, alternative and public health and wellness, food and lifestyle, active transportation, energy production and consumption and youth programs and access to postsecondary education.
Two teams were assigned to each theme and a specific site in Toronto, together making 12 teams. The event took place from Thursday, February 19th to Monday, February 23rd.
Project Goals:
Based on assigned case study sites and themes, charrette teams were asked to rethink the use of Toronto's ravines and propose new ways to activate them for the city's inhabitants.
__
How can we design new social infrastructure to connect the City of Toronto through its urban ravine system?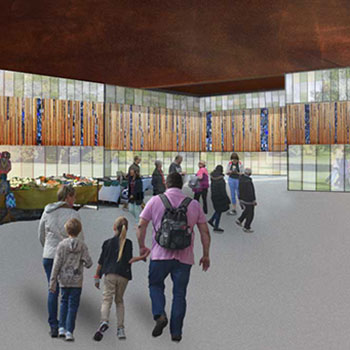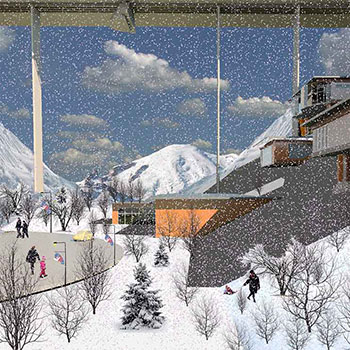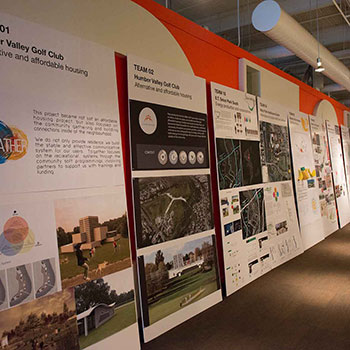 Our City within a Park
From the Humber River to the Don Valley and over to the Rouge River "Toronto is a city of ravines" (Toronto and Region Conservation Authority). A large portion of the City's population closely surrounds the ravines and their associated green spaces, trails and park systems. Toronto's ravine system is a collective natural backyard and a key part of the public realm. Constituting upwards of 5% of the city's area, the intersecting ravines form a system of linear corridors touching neighbourhoods from Etobicoke to Scarborough and everywhere in between.
Ravines are critical to our natural ecosystem and they sustain our urban health by improving air quality, controlling flood waters and reducing heat island effect. Containing over 10,500 acres of recreational space for walking, hiking, kayaking, cycling, mountain biking and exploring, the network provides a refuge from the stresses of urban life.
The Toronto region recently reached 6 million residents, which will significantly increase the demands on our ravines, parks and trail systems to serve not only as a place for recreation, but also to provide new services and social infrastructure.
The intent of the City within a Park Charrette was to explore issues that are affecting Toronto through the lens of the Toronto Foundation's Vital Signs®, and to propose ways that Toronto's ravine system can influence the public realm and enhance the city's social infrastructure. This charrette examined different ways the ravine network can strengthen the City of Toronto.
The summaries of the charrette teams' design proposals are available below.
Summary of Charrette Proposals:
Project Credits:
IwB students, faculty, and staff 2014-2015
GBC, Design Management
GBC, Graphic Design
GBC, Architectural Technology
GBC, Interaction Design and Development
GBC, Interactive Media Management
Copenhagen School of Design and Technology (KEA)
Dublin Institute of Technology (DIT)
École de communication visuelle (ECV)
OCAD University
Politecnico di Milano
Toronto and Region Conservation Authority (TRCA)
Toronto Foundation (TF)
City of Toronto
Friends of the Pan AM Path
Guest Speakers:
Stefano Pujatti
Rosalyn J. Morrison
Garth Armour
James Meers
Drew Sinclair
Photo Credits:
Daniela Mason
Project Tags:
Toronto, ravine, public infrastructure, charrette, public space, community, charrette
"The Our City within a Park Charrette was a great opportunity to share a creative experience, to meet different people and to learn from each other."
– Luiza Albertini, IwB student