Date: October 18-21, 2013
Office for Public Imagination Charrette
Overview:
The IwB partnered with Parsons DESIS Lab and IIT College of Architecture for a three-day charrette in New York City to investigate new models for municipal and regional public innovation units. Four teams made up of IwB, Parsons, and IIT students, created proposals for different types of agencies that could intervene in local and regional problems making a more resilient New York City region.
__
What kind of agency could connect citizens, the private sector and public institutions to make the New York City and the Tri-state Region more resilient?
Goals:
To work collaboratively with teams from Chicago and New York and design a public innovation unit that works across municipal boundaries and is able to assess and address problems on a city and regional scale. Further, to use the 196 Stanton Street Storefront Gallery space, located in the Lower East Side in Manhattan, as a hypothetical test site for the public innovation unit.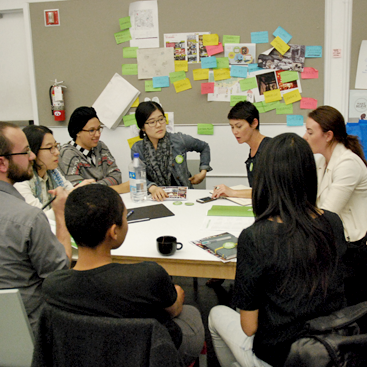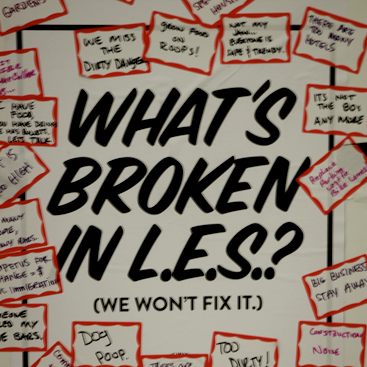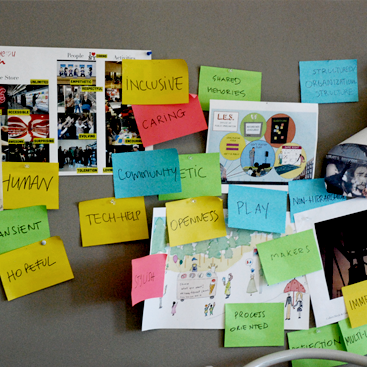 Office for Public Imagination Charrette:
The IwB students, faculty and staff travelled to New York City in October 2013 for the Office for Public Imagination Charrette and the Municipal Art Society (MAS) Summit for New York City.
The three-day charrette was organized in partnership with the Parsons DESIS Lab's MFA Transdisciplinary Design Program and the Illinois Institute of Technology's College of Architecture. Four teams of students, together with expert advisors, investigated new models for municipal and regional public innovation units. The challenge was to design an agency that can work at a neighborhood level, but can also link municipalities, state and federal governments and the private sector to address problems that overlap municipal and state jurisdictions.
The charrette included a guest lecture from Debra Lam from Arup, who discussed the future of resiliency in urban centres. Students also met and were advised by experts from the NYC City Parks Foundation, Cannon Design, the Wagner School/ NYU, Citi Group and others.
With the help of dedicated and expert advisors, student teams were asked to incorporate the Storefront space at 196 Stanton Street in the Lower East Side as their agency's headquarters. The teams' proposed agencies are summarized below.
The IwB team attended the two-day 2013 MAS Summit for New York City on invitation by Mary Rowe, MAS director and conference organizing head. The summit is the MAS signature event designed to promote a meaningful dialogue about the future of NYC and other global cities around the world.
At the summit, IwB students and staff had the chance to participate in lectures with NYC, US and international leaders in urban development and design, like New York City commissioner Janette Sadik-Khan as well as scholars like Richard Sennett. The summit gave the IwB students and staff context for current and future urban development in NYC and its surrounding regions.
Project Credits:
2013-2014 IwB Cohort
IwB staff
Parsons, The New School staff, faculty, and students
Eduardo Staszowski
Lara Penin
Illinois Institute of Technology's College of Architecture staff and students
Martin Felsen
Photo Credits:
Evelyne Au-Navoiz
Robert Giusti
Apostolo Zeno
Graeme Kondruss
Project Tags:
Toronto Charrette: Responsive Building, Chicago City Spaces Charrette
"Contemporary urban challenges cross municipal and state boundaries and often require city-region cooperation."
– IwB, Regional Ecologies