Category: Special project
1st Access Challenge Charrette
Overview: 
The 1st Access Challenge was a charrette organized by the IwB as part of the Millennium Scholarship Fund, in partnership with George Brown College, the YMCA, and the Canadian Post-Secondary Access Partnership. The charrette brought together local and international participants and experts to tackle issues around access to postsecondary education in Canada.
The charrette was held over 3 days, from October 24-26, 2009, at the IwB and at the Sheraton Hotel in Toronto. It looked at 11 communities across Canada: Biggar (SK), Concordia/ Lower North Shore (QC), Hamilton (ON), the Mi'kmaq Communities of Nova Scotia, Nanaimo/ Vancouver Island (BC), Saint John (NB), Prince George (BC), St. Catherines (ON), St. James Town in Toronto (ON), St. John's (NL), and Surrey (BC).
__
Promoting equal access to postsecondary education in Canada is task of vital importance.
Project Goals:
Community representatives were organized into charrette teams and were given the task of brainstorming solutions to improve access to postsecondary education in their communities. The teams, supported by charrette facilitators and creative professionals, were asked to propose an idea that targets groups and barriers in the community, then show how this plan would work, and what impact it might have.
The charrette results were structured to be action plans for each community. They also contributed to a national resource document that was made available after the charrette to other Canadian communities working towards increasing postsecondary access.
"Seeing so many people dedicated to bringing education to communities in Canada that have faced hardships and been in the past distanced from mainstream culture was truly inspiring. It showed me how crucial issues of education access are to promoting equality in Canada."
– Sisley Leung, IwB alumna & 1st Access Challenge Charrette participant
1st Access Challenge Charrette:
The Canadian economy is in transition. With previous manufacturing areas changing to new types of economies, the need for new skilled, educated workers is great. Over two-thirds of jobs today require some level of higher education, yet many Canadians do not pursue postsecondary education. Whether because of career indecision, social pressure, lack of information about opportunities or due to financial constraints, many Canadians face barriers to postsecondary education.
The 1st Access Challenge Charrette was conducted to facilitate this aim as part of the Canadian Post-Secondary Access Partnership, an initiative of the Millennium Scholarship Foundation. The IwB worked with the 11 chosen communities and the Canadian Post-Secondary Access Partnership representatives to build the capacity of the community organizations to provide aid and consultation services, technological tools, training, and professional development opportunities to youth and adults.
Each charrette team received a Community Challenge Brief that included a short community profile, objectives for the charrette, information about their team members, and relevant research specific to their unique community barriers and opportunities. In addition to the specific community research summaries, included in each brief, was a general overview of the state of postsecondary access in Canada as well as reference and source information about existing programs and tools.
The overarching goal of the charrette was to empower individuals to reach beyond their imagination and to learn about the many benefits of postsecondary education.
Areas given specific consideration in the brief were:
•  The needs of Aboriginal communities which continue to have high rates of non-completion of high school and remain under-represented at the postsecondary level
•  Studies about parental educational attainment which remains a significant factor in determining a student's likelihood to pursue postsecondary education
•  Specific case studies on new and first generation Canadians who face issues of language, finances and cultural bias with regard to postsecondary access and attainment
•  Issues of costs and perception of costs of postsecondary education in Canada
•  Rigour of programing at the high school level that is seen as key to postsecondary success
The charrette teams looked at many broad categories of barriers to postsecondary education and how these barriers can be manifested both at the individual level and at the community level. These include but are not limited to: academic, cognitive, cultural, economic, ethnic, financial, gender-based, generational, geographic, linguistic, physical, psychological, social, and technological barriers.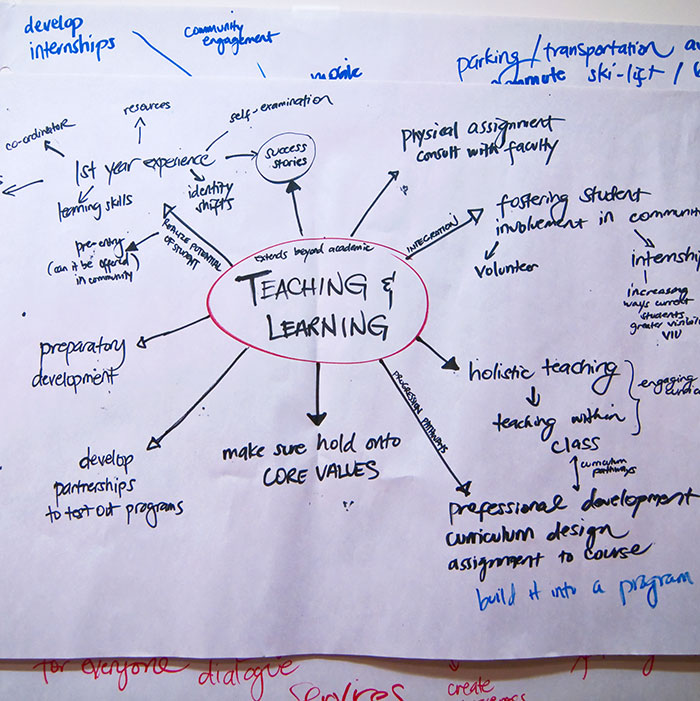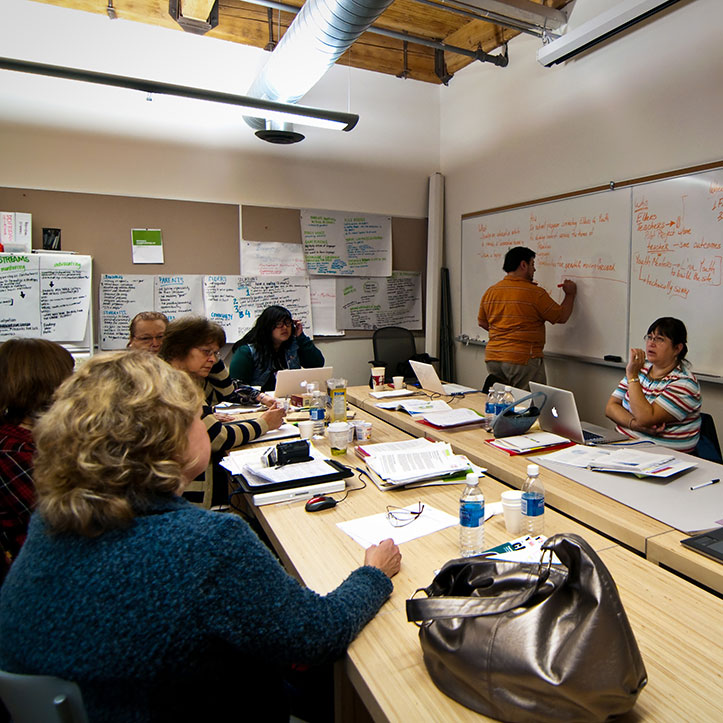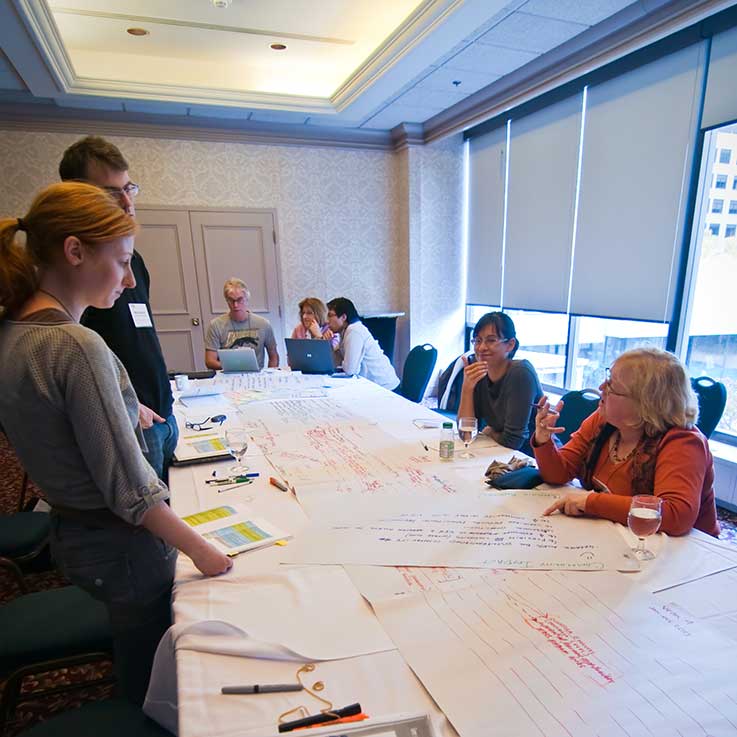 Project Outcomes:
Discussed at the charrette were new programs and partnerships between postsecondary institutions, government, and industry that create market-driven learning opportunities and simultaneously have wide access.
Other main topics of discussion included: the role of technology in providing access to areas that were once considered too remote and in a wider range of languages than was possible in the past, the focus on the learner within the context of his or her community, and the importance of familial and peer support, cultural biases, and linguistic barriers to learning.
The 11 charrette teams each proposed new programs, partnerships, and design tools that can work in their specific communities.
Summaries of the communities profiles and links to proposals are below.
Project Credits:
IwB students
IwB staff and faculty
Canada Millennium Scholarship Foundation
Canadian Post-Secondary Access Partnership

Photo credits:
IwB staff
Guest Advisors:
Diana Wickham
Karen Bailey-Romanko
Fiona Bain-Greenwood
Louis Haeck
Douglas Beech
Adela Colhon
Paul Dosal
O'Neil Edwards
Rene Dubay
Lisa Fielder
Yvonne Green
E.Morralee Holzapel
Nicole Hurd
Tricia Jenkins
Kim Kiely
Margie Layden-Oreto
Mee Foong Lee
Tia McNair
Yves Pelletier
Robin Moberg
Denise Williams
Project tags:
1st Access Challenge, postsecondary, education, charrette, Biggar, Concordia/ Lower North Shore , Hamilton, Mi'kmaq Communities, Nanaimo/ Vancouver Island, Saint John, Prince George, St. Catherines, St. James Town in Toronto, St. John's, Surrey