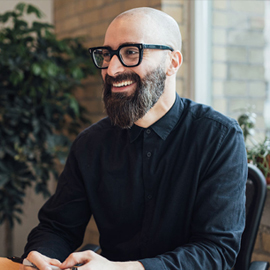 Simon Mhanna
Innovation Designer, The Moment
Simon Mhanna is an innovation designer and design researcher. He holds a BA in Design, MSc in International Project Management, with an emphasis on International Marketing/Branding, and an MA in Media Studies. He has worked for clients and companies in MENA, the Gulf, Europe, Africa and Canada, and collaborated with leaders and teams across industries from start-ups to multinationals, not-for-profit and public sector. His focus revolves around using processes, research and insights to provide creative and strategic solutions for new and existing businesses, and to enable multidisciplinary and stakeholder collaborations for social and organizational innovation.
He has facilitated stakeholder engagement sessions and conducted design research studies for various clients to develop innovative approaches to affect social change, and to design innovation strategies and roadmaps. Simon is skilled at designing processes, innovation systems and service design toolkits. He has over a decade of experience in mapping, analyzing, synthesizing and visualizing user data and research findings and integrating them efficiently into new designs and innovation strategies development.
Simon works as Innovation Designer at The Moment, an innovation studio that has helped leaders of organizations and teams across sectors to adapt, respond and lead innovation efforts. He is a Strategic Advisor at the DesignTO Festival where he focuses on creating a space to engage the community in discussions and workshops around critical issues in design and society. He is also a member of the International Service Design Network.
He has taught a range of design and communication courses in various universities, published and presented his research at several international conferences, conducted workshops and moderated creative talks.
Courses
DESN 4012 Product, Systems and Service Design

"The illiterate of the 21st century will not be those who cannot read and write, but those who can't learn, unlearn, and relearn."
– Alvin Tofler

"If you want to innovate, you need to be one part humanist, one part technologist, and one part capitalist."
– Lou Lenzi