Overview:
Over the 2014-2015 academic year, the IwB is partnered with the City of Eastpointe, Michigan as part of its Connecting Divided Places Project, which aimed to understand the networks and interconnected systems that define our cities and their surrounding regions. Eastpointe, along with Toronto and Chicago, are feature cities of this project.
As part of this collaboration, the IwB travelled to Eastpointe for a 4-day charrette that encouraged students, faculty and other key stakeholders to reimagine the city's common spaces.  Leveraging existing public spaces, redevelopment sites, infrastructure and resources, this charrette was intended to envision a more livable city.
The Eastpointe Charrette was held from October 27th to 29th, 2014, at Eastpointe City Hall.
Goals:
The primary intent of the charrette was to develop tangible ideas and strategies that would activate common spaces within Eastpointe, to increase resiliency, inclusivity and desirability.
Working in multi-disciplinary teams, charrette participants created scalable and implementable solutions that are rooted in community-based initiatives and align with existing initiatives and opportunities including Eastpointe's Place Plan.
__
How do we reimagine the commons to create a contemporary city based on the principles of resilience, inclusivity and desirability?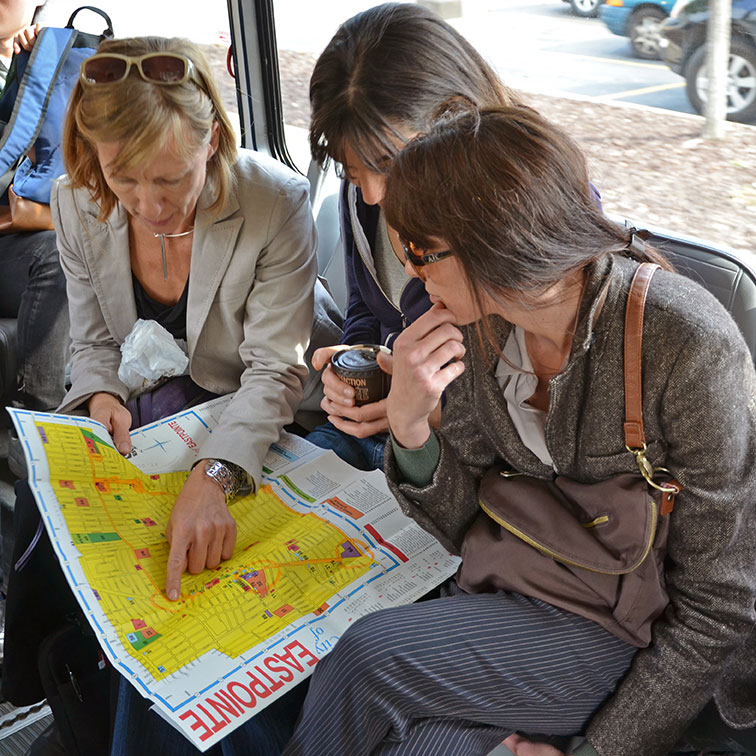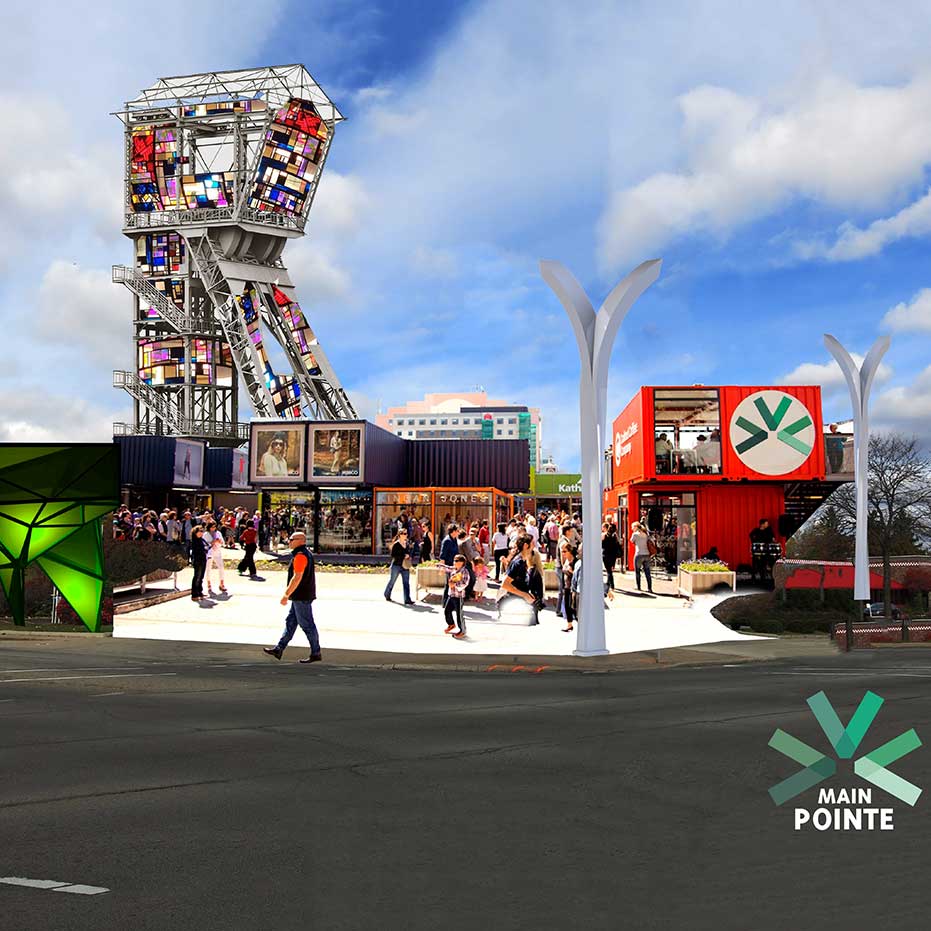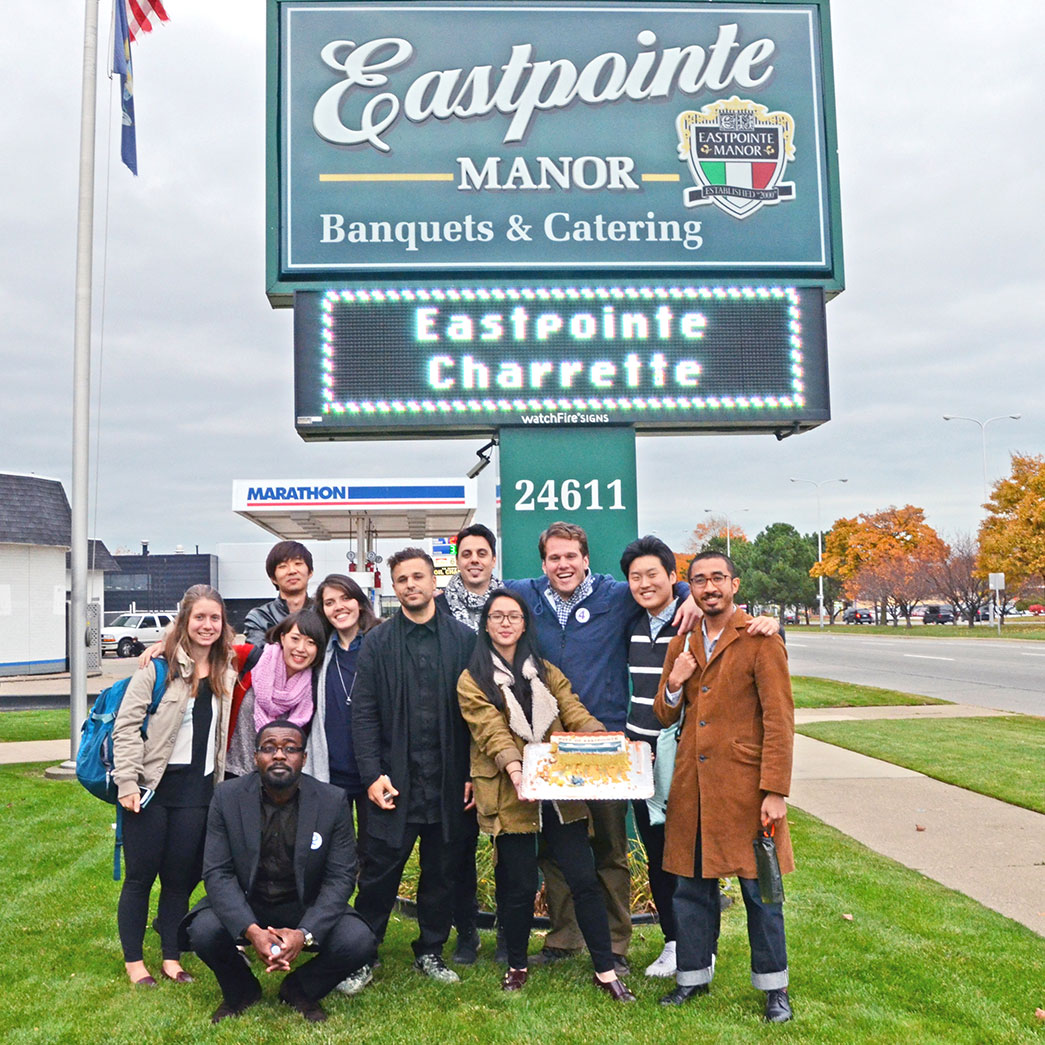 Eastpointe Charrette:
The City of Eastpointe is a small, thriving, Michigan suburban community founded on the principles of family values and hard work. It has a vibrant history as a regional connection and access point between Detroit and the Macomb County communities and suburbs. It is also part of the larger international region that links North Michigan and Canada through land and water border crossings.
Eastpointe grew and prospered significantly as one of Michigan's earliest suburban communities. Like many North American suburbs, a major part of the city's infrastructure was built to promote car use. With the decline of industry in Detroit, Eastpointe experienced population shrinkage throughout the 1970s and 1980s, but has had a leveled population since the 1990s, with only minimal decrease.
Deindustrialization in Detroit meant a changed relationship to the Michigan capital in terms of Eastpointe's economic and cultural self-capacities. Today, the city must look to at how it can become a more 'livable' city, developing the infrastructure that was set up to service a 'bedroom community.'
One of the biggest challenges for the city government is to make better use of the resources that already exist in the community towards future growth opportunities and regional connectedness. Towards these goals, the theme of 'the commons' was chosen as the area of investigation for this charrette.
The commons are areas within a community or city that are shared amongst its residents. These often provide a platform for creative and political expression, social interaction or leisure, and act as an important connective tissue for citizens. With over 35 percent of land use within Eastpointe dedicated to common spaces, there is a significant opportunity to create a more livable city by generating innovative solutions that take advantage of the existing conditions and infrastructure.
Project Outcome:
Once serving a larger population base, Eastpointe has a generous amount of spaces that could be repurposed to serve changing community needs. This includes roadways, right of ways, public spaces and other core public infrastructure within the city. Four of these types of areas were chosen and were paired with four themes selected in consultation with the City of Eastpointe: 1) Boulevards & Public Space, 2) Redevelopment Sites, 3) The Downtown, and 4) Mobility Hub.
Working in teams, charrette participants came up with diverse proposals to develop Eastpointe's communal spaces that could creating a strong sense of place and belonging, opportunities for entrepreneurship, and economic and social growth in the city.
For the charrette, teams were asked to deliver a project manifesto, visualize the proposed site transformation, create either a physical design or service design within the plan, develop a timeline to show how the proposal will unfold and make the proposal adaptable so that it could be replicated for other community projects.
The summaries of the charrette teams proposals are available below.
A final report was also developed for the City of Eastpointe, which can be accessed here.
Summary of Charrette Proposal Results:
Project Credits:
IwB students, faculty, and staff 2014-2015
City of Eastpointe
Lawrence Technological University (LTU)
Ponyride Incubator Space
Photo Credits:
Heather Daam
Robert Giusti
Project Tags:
Eastpointe, Michigan, the commons, public space, community, charrette
"It was a pleasure collaborating with the City of Eastpointe during this charrette. We were able to produce some unique and exciting proposals for the city. We are excited to be a part of these future ideas."
– Phuong Diep, IwB student