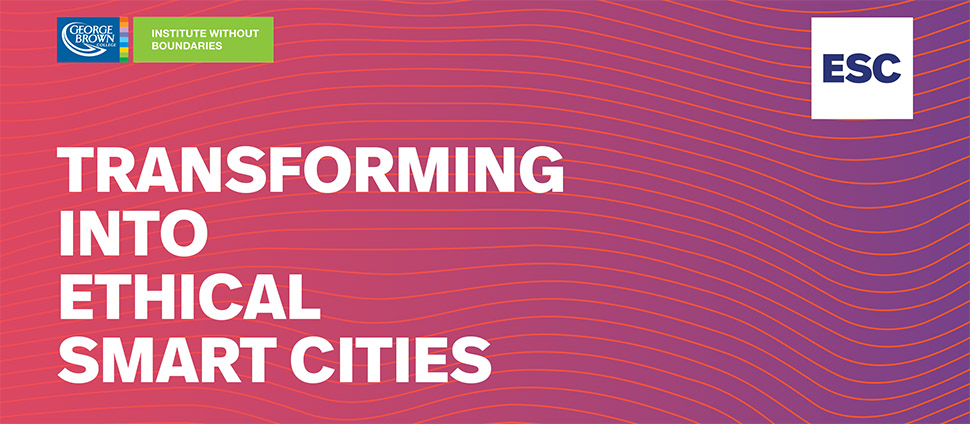 The Institute without Boundaries invites you to the 2019-2020 cohort's launch!

Join us on Friday, May 29 as the 2019-20 student cohort launches their playbook, website, and video. Kick back and relax while you learn about the Ethical Smart City, an exciting new development in the smart cities conversation from a fresh group of 13 graduate students dedicated to human-centred design.
Invite your friends & colleagues to sign up – it's a FREE event!
Take advantage of the opportunity to network with like-minded change-makers from across Canada and the globe. It's like a trip around the world…without having to pack a suitcase or wait in a long security line.
Discover the Ethical Smart City Framework, the product of a nine month-long intensive research and design strategy project of an interdisciplinary team developed to help shape the future of smart city development.
Listen in on a conversation between ICF-Canada's Chair and Co-founder, John Jung and the students and get a behind the scenes view of their process and work while navigating collaboration during a global pandemic.
Stay for the unveiling of ethicalsmartcity.com and the Ethical Smart City Playbook – 2 resources that are chalk full of inspiration and tools for you to bring to your next zoom meetings.
Did we mention you can do all of this without leaving your HOME? That's right, you don't even have to get off the couch. Grab your popcorn, refreshments, sweatpants, computer and you're all set!
Sign Up Today
We can't wait to see you there!
Here's a sneak peek at what we've been up to.
This event is brought to you by the 2019–20 Interdisciplinary Design Strategy cohort at the Institute without Boundaries, School of Design, George Brown College
Key Dates & Locations:
2019/20 IDS Ethical Smart City Launch:
Thursday, May 29, 2020 | 4PM
Location: ONLINE