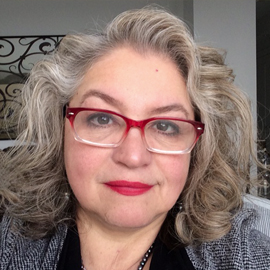 Monica Contreras OAA
Architect, Project Manager, Systems Designer
Monica Contreras brings her 25-year experience, commitment, expertise and visionary systems design thinking to the Institute without Boundaries. Her role as faculty is focused on translating the thematic curriculum into interdisciplinary learning outcomes and tangible design skills acquisition by the co-hort of students via the Integrated Design Strategy courses. In her role as associate researcher and charrette leader she contributes strategic and sustainable systems knowledge, technology and engagement leadership, and coordinates and develops new processes, methodologies and practices to develop strategic design solutions that can tackle our society's wicked problems to activate transformative change.
Monica is a registered architect, currently Principal, Conifer Consultants (affiliated with The Civis Group Inc.) a multidisciplinary architectural and design practice and Director, Digital Media, Research & Innovation Institute at OCAD University. She was the former Director, Digital Futures Implementation at OCAD University, and University Architect at the University of Toronto and York University.
"Because a designer has to be a stubborn idealist, a courageous explorer and a transformative decision maker to affect positive change in the world, one must engage in a life-long process of learning, failing, researching, participating, thinking, making, arguing, demanding, risking it all and then when you think you have reached a summit be prepared to start again."
– Monica Contreras