Category: Educational-course, academic
Form: Major project, publication, exhibition, charrette
Interstitial Zones & County Kerry
Overview:
Interstitial Zones was a research and design project aimed at promoting sustainable economic development in the County Kerry region of Ireland. It was the third year of a five-year research trajectory set by the IwB to explore Regional Ecologies, an approach that emphasizes the study of the regional scale of cities and their surrounding areas.
Building a definition of 'interstitial' as spaces 'in-between' and potential future areas of influence and vitality, and working with the local residents, businesses and the Kerry County Council, the IwB student cohort of 2015-16 set out to understand the unique context of County Kerry. The students conducted intensive fieldwork in Ireland, and facilitated several workshops as well as two major charrettes, the Imagining Iveragh Charrette (held in Ireland) and the Balancing Continuity and Change Charrette (held in Toronto).
In just nine months, and through many iterations, the IwB students put together an impressive proposal for County Kerry called "Re-imagining Skellig Kerry." The students' proposal is based in 3 key strategies and 5 projects that respond to those strategies, together they are a holistic plan to promote sustainable growth in the region.
Project Goals:
The Interstitial Zones project focused on analyzing and understanding interstitial zones through case studies, principally the County Kerry region in Ireland. The IwB students aimed to map out what happens in interstitial areas in terms of economic, cultural, and social activities. And then re-think in-between places as active and balanced social and economic areas with a redefined role in a globalized economy.
_____
Encouraging sustainable growth by accessing assets, encouraging collaboration and strengthening identity.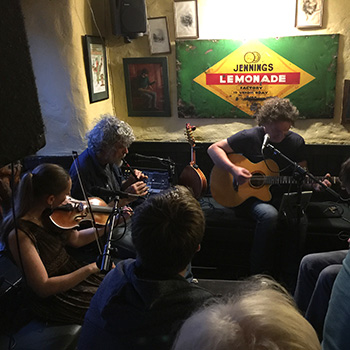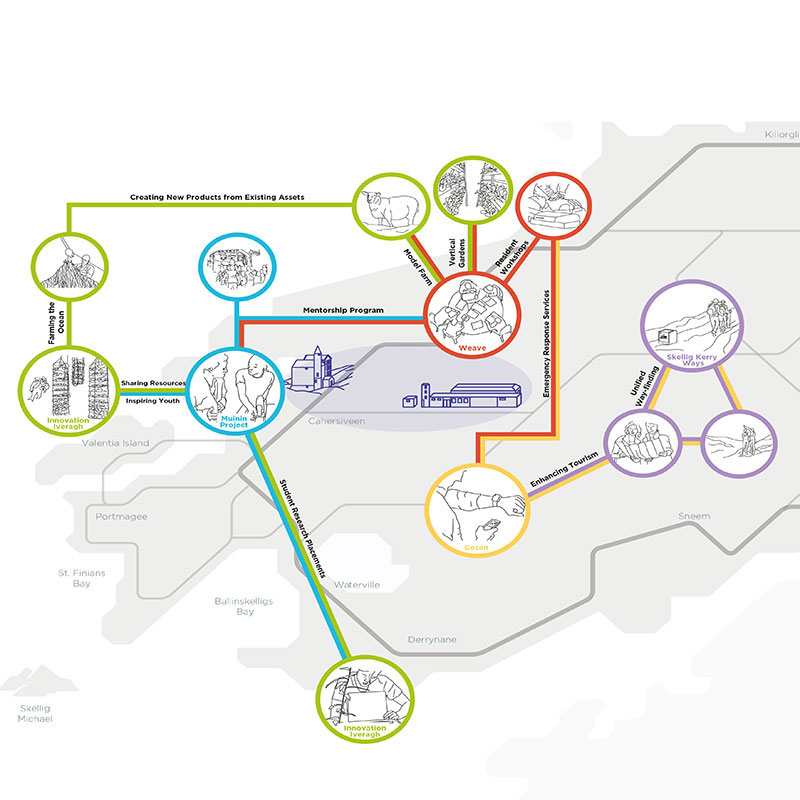 Project Context & Year Highlights
County Kerry is a small region in the southwest of Ireland. It is a rugged coastal area rich in history and wildlife, but it faces depopulation and problems stimulating and maintaining economic activity. In particular, since the 2008 economic crisis the region has faced difficulty dealing with the side-effects of the crisis, with little potential investors and jobs available.
At the same time, the economic situation has in no way changed the region's potential as a prosperous economic zone, especially in areas like tourism and ecological research.
Recently Kerry has been included as part of the new "Wild Atlantic Way" regional branding campaign. But the campaign and developments in Kerry, for instance in the areas of tourism, entrepreneurship, investment in science and technology, have not been even across the County. The IwB students zoomed in on the Iveragh Peninsula (Irish: Uíbh Ráthach), an area in the region that has had less opportunities for development. 
Focusing in on the Iveragh Peninsula through the typology of an 'interstitial zone', the IwB students worked closely with the Kerry County Council and other local stakeholders choosing four major project themes to steer their work: County Kerry as a Destination; Science and Ecology in Kerry; Culture and Heritage in the Kingdom of Kerry; and Innovation and New Industry in Kerry.
Using these themes the IwB students, faculty and staff explored how to create sustainable growth in Iveragh.
Project Outcomes: Re-imagining Skellig Kerry
The IwB students' work in County Kerry is extremely relevant when looking at the greater context of rural regions across the globe. Iveragh, like many other small regions, faces lack of connectivity and economic diversity as well as educational opportunities, which makes it vulnerable to unemployment and depopulation.
At the same time, the challenges that Iveragh faces are local and specific to the region. Through their fieldwork the students came up with 6 principal insights about Iveragh that focused their final projects: 1) Opportunities for young people are scarce in the region, 2) There is a lack of infrastructure that restricts accessibility, 3) Farming in Iveragh is extremely difficult, 4) The landscape is highly valued but also seen as a barrier, 5) Tourism is seasonal and unsustainable, and 6) There is vast untapped potential in the region.
With these insights the students developed a strategy for sustainable growth in the Iveragh Peninsula based on three principles: Accessing Assets, Encouraging Collaboration and Strengthening Identity.
Throughout 2015-16, the cohort conducted ongoing research, workshops and meetings with the stakeholders as well as exhibitions to gain feedback on their work. All of their efforts led to 6 design proposals–Weave, Skellig Kerry, Innovation Iveragh, Cosan and Munin (summaries of projects to the right).
In June 2016, the IwB students presented their final proposal to the client, County Kerry Council. It is our hope that the excellent work of our students in County Kerry will help local stakeholders move forward with their goals.
View the students' final presentation here.
Stay tuned for more developments of this project & the Re-Imaging Iveragh book!
Project Credits:
IwB  staff and faculty 2015-2016
Kerry County Council
the 2016 Dean's Charrettes participants
Special Thanks:
To all local participants of this project as well as our international educational partners, you have helped to make a very unique project take place.
IwB Students
John Abila
Shrey Chhatwa
Michelle Cheung
Talia Kalender
Yuqi Lio
Audrey McMann
Amanda Nasturzio
Viraj Pathare
Anuta Skrypnychenko
Hassan Zaki
Jane Zhang
Photo Credits:
Daniela Mason
IwB staff and faculty
IwB students 2014-2015
Project Tags:
County Kerry, Kerry County Council, Ireland, interstitial zones, in-between, economic development
"It is important to improve its (Iveragh's) infrastructure because part of its absolute charms is its isolation, but in isolation there is difficulty in people having sustainable employment, in order to make sustainable employment we need to look at things differently."
– County Kerry resident