Form: Major project, publication, exhibition, charrette
Connecting Divided Places
Overview:
In 2014-2015, the IwB started the Connecting Divided Places project, which looked at the social, economic, environmental, and cultural divisions in Chicago, Eastpointe (MI), and Toronto. Connecting Divided Places was the second year of a five-year research trajectory set by the IwB to explore Regional Ecologies, an approach that emphasizes the study of the networks that tie together cities and regions.
The IwB students, staff, and faculty travelled to each city and worked with local stakeholders, including municipal officials, community leaders, and other students from local educational institutions. Working with these stakeholders, the IwB students developed product and systems designs and conceptual tools for issues of division facing these cities.
The students emphasized the need to further theorize the concept of division. They proposed that 'Connecting Divided Places' is contingent on understanding how division can limit access to opportunity.
The students' findings will be summarized in a forthcoming "Atlas" publication.
Goals:
The goals of the Connecting Divided Places project were to locate and generate new connections in Chicago, Eastpointe (MI), and Toronto.
The students were asked to forge links that cross political, class, race, economic, communication, and environmental divisions in these cities by stimulating new relationships, economies, and knowledge networks.
____
Division is the interplay between Power, Access, and Boundary that can limit access to opportunity.
"The students worked hard this year, diving into division from every possible angle. There are many valuable insights and projects that emerged from their process. These are powerful ideas for designers and policy workers, which can be applied to real contexts of division in cities."
– Heather Daam, IwB Assistant Academic Coordinator
Connecting Divided Places:
Chicago is a city deeply divided physically, racially, and economically. Eastpointe, a small municipality at the edge of Detroit, contains the well-known 8 Mile Road that divides the inner city from the suburbs. Toronto is a city where rapid gentrification is threatening social cohesion.
In the fall of 2014, the IwB students broadly explored the concept of 'division,' examining the regions of Toronto, Detroit, and Chicago. The students set out to understand how division occurring in nature, politics, economics, culture, and technology affect life in these cities. They began by theorizing the concept of division and demonstrating their theoretical propositions by looking at real issues in each of the cities they were studying.
Through this process, what became apparent for the IwB students is that division is highly contingent on social and individual factors of power, access, and boundaries. Working from this finding, the students defined division as:
"The interplay between Power, Access, and Boundary that can limit ACCESS TO OPPORTUNITY."
With this definition, they set out to explore the patterns, trends, and relationships that exist between people in Toronto, Eastpointe, and Chicago that limit access to opportunity.
Project Results:
Throughout 2014-2015, the students proposed design projects that aimed to build connections between citizens, aiming to inspire community leaders and designers in Toronto, Eastpointe, and Chicago to create the conditions for equal access to opportunity.
These strategies included: creating new social infrastructure to connect open space networks and activate community participation and engagement; building cultural connections, knowledge and learning networks using new technologies, applications, and organizational structures; pioneering and innovating systems of transportation that connect disparate city infrastructure; producing new economies in city-regions that can provide new job opportunities and ameliorate wealth disparity; and exploring strategies and opportunities for new social relationships and community interaction.
Between their course work, the students led and participated in three international charrettes, several workshops, exhibitions and special events and projects.

To find out more, see the project highlights below.
And stay tuned for the release of the students' Atlas publication!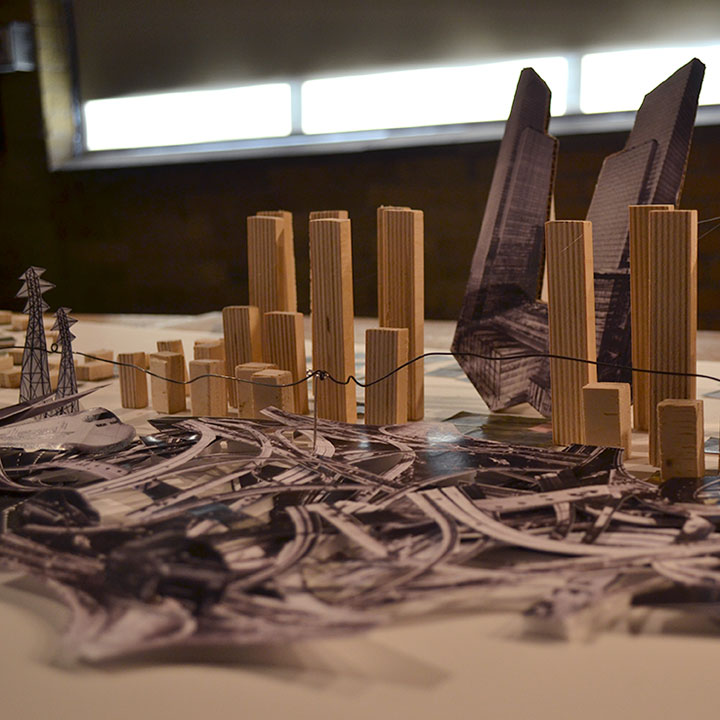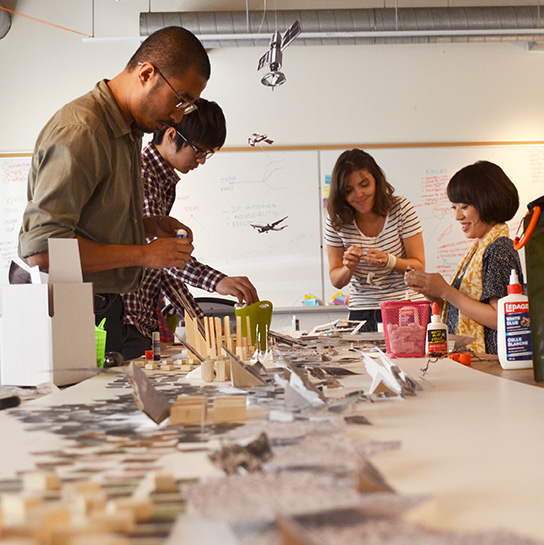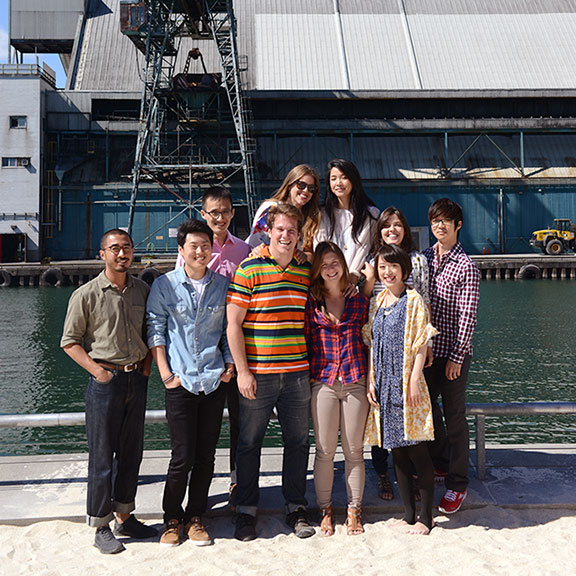 2014-2015 Connecting Divided Places Year Highlights:
Project Credits:
IwB staff & faculty
Luiza Albertini
Phuong Diep
Michael Esteras
InGi Kim
Haotian (HT) Liu
B'Jamiin Melamed-Turkish
Marta Piedras
Kevin Wang
Hitomi Yokota
James Young
Photo Credits:
IwB students 2014-2015
IwB staff and faculty
Daniela Mason
Ginny Chen
Project Tags:
Chicago, Eastpointe, Detroit, Toronto, divided places, social division, Regional Ecologies, connecting, networks, city-region