Category: Special projects, consulting
Chateau Masson Design Charrette
Overview:
In June 2008, the IwB conducted a charrette looking at the Chateau Masson special needs housing facility in Windsor, Ontario, in collaboration with the Windsor Essex Community Housing Corporation (CHC), the Canada Mortgage and Housing Corporation (CMHC), the City of Windsor, the University of Windsor, and the Windsor Police Services.
The facility is owned and operated by CHC. The primary purpose of the charrette was to work with CHC to improve living conditions for its tenants, many of whom have special needs due to mental illness, drug addiction, and/ or disability. Simultaneously, the charrette aimed to revitalize this significant piece of the Glengarry community in Windsor. The initiative was inspired by the belief that through partnerships and community engagement, a better design for Chateau Masson could emerge, which could increase quality of life and social justice for residents, offering them a brighter future.
Goals:
The charrette had two key objectives: to come up with designs that upgrade and renovate the physical features of the facility and to strengthen existing networks by providing forums that connect and assist residents in overcoming personal obstacles.
__
The key challenge in redesigning Chateau Masson was to strengthen existing networks and create new links that could mediate challenging scenarios.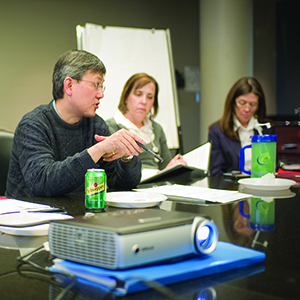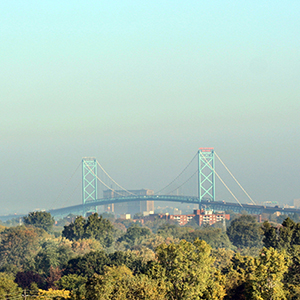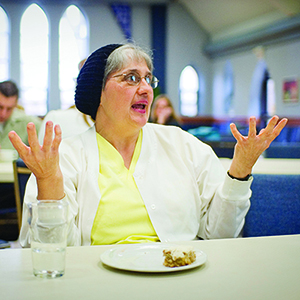 Chateau Masson Design Charrette:
Chateau Masson is a rent-geared-to-income housing residence. It is located in the Glengarry neighbourhood of central Windsor, within a two-block radius from six other social housing properties that are also owned and operated by the CHC. This makes for a total of approximately 880 social housing units in the area, ranging in size from bed-sitting rooms to five-bedroom apartments.
Chateau Masson was originally designed as a seniors' residence, but has since been retargeted to house adult, seniors, and families, who may also experience disadvantages such as mental illness, developmental delays, or physical disability and, who are often supported through social assistance of some kind, such as Ontario Disability.
The Chateau Masson complex provides a range of housing needs. For some, Chateau Masson is a comfortable and temporary transition space from a nursing home or a street shelter, while others have lived there for more than 10 years. These residents form a dedicated core group that is eager to contribute to the process of making improvements. The average duration of tenancy is 47 months (just under 4 years).
The residence is not a traditional shelter or long-term care facility because it does not provide formal health supervision or support. All of the residents must be capable of living independently, but residents do receive a significant amount of care and support from social work, nursing and music therapy students at the University of Windsor, other local service agencies, and the municipality.
The Chateau Masson building is in need of renovation and upgrade. Its interior spaces are dark and not welcoming and some of its functions are not well-suited to the residents' needs. For instance, the unit types and meal plan options have limited market appeal for prospective residents and the work areas and common spaces constrict the recreational and support service activities that are so critical for the facility's clientele.
Additionally, the complex has ineffective ventilation and lack of proper temperature control, insect problems, noisy echoes from the hallways, inadequate furniture in common spaces, lack of secure storage space for bikes and personal items, faulty garbage disposal, and interior infrastructure that present accessibility difficulties for a wheelchair or a walker.
The charrette focused on providing renovation and upgrade options for CHC that would work closely with Chateau Masson residents and the organizations that support the complex. The charrette aimed to improve the quality of living for Chateau Masson residents, making efficient use of resources, creating a viable business plan for the property, and contributing to a safe and vibrant Glengarry neighbourhood.
Project Outcome:
The charrette design proposal diversified the public spaces with new social areas of varying functions, where residents, staff and visitors could engage with each other. New offices were proposed that would enhance and increase the available work space for service providers, such as the University of Windsor students and CHC staff, allowing for new areas where support workers could offer programming for residents.
The proposed renovation included a variety of unit options, ranging from bed sitting rooms, to bachelor and one-bedroom apartments with kitchenettes, to independent townhouse units that could also be accompanied by a choice of a meal plan. This way the CHC could appeal to a broader constituency, which would benefit its market profile and also improve the social dynamic and security within the Chateau Masson property.
The charrette design also included new features that would attract residents from other CHC buildings and the greater Glengarry community to the property, for example, retail facilities, a café, an outdoor patio and the new CHC headquarters. This would help residents stay in touch with local happenings and build ties that could lead to volunteer or work placements.
For more information see the Chateau Masson Design Charrette Report.
Project Credits:
Community Housing Corporation
Canada Mortgage and Housing Corporation (CMHC)
University-Community Partnership for Community Development, Research and Training
City of Windsor
Windsor Police Service
Chateau Masson Residents
ACT Team
Aids Committee of Windsor
Canada Mental Health Association
Community Living Windsor
Glengarry Neighbourhood Strengthening Committee
Homeless Coalition
Legal Assistance of Windsor
St. Joseph's Health Care
Teen Health Centre
IwB team:
Luigi Ferrara
Silvio Ciarlandini
Perin Ruttonsha
Evelyne Au-Navoiz
Connor Malloy
Michael McMartin
Teresa Miller
Mark Stevens
Photo Credits:
Michelle Hotchin
Gordana Adamovic

Project Tags:
Chateau Masson, special needs facility, CHC, Windsor
"If we can help them (the residents) find reasons to get out of their rooms, get involved with others on their floor, have the different floors cooperate in the building, and even get involved in the Court complex as a whole, then we can reduce their vulnerability to crime, we can improve their contact with agencies and health services and with each other."
– Barry Law, Student, University of Windsor, From: Barone, J. Carrington, Eds. "Civic Engagement" Pinnacle: Social Justice (2008): 2-3. University of Windsor.