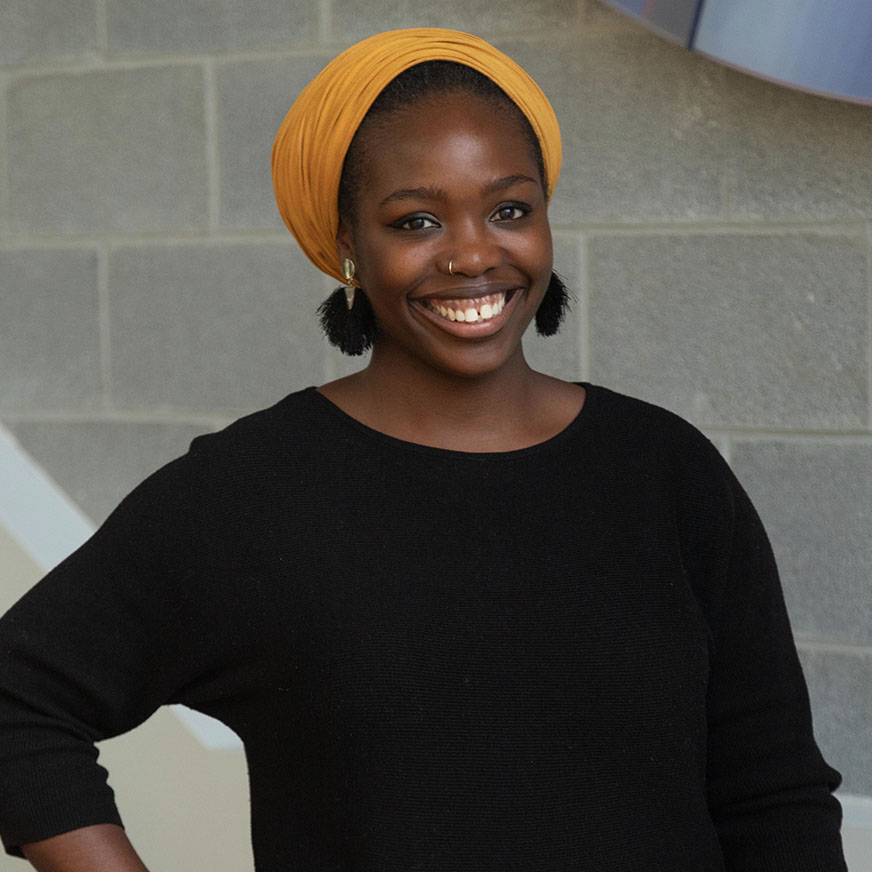 Adunni Rufai
Master's in International Business, Hult International School of Business; B.Sc. Accounting, American University of Nigeria
Adunni Rufai is originally from Nigeria and moved to Toronto in January of 2019 after living in San Francisco for 5 years. She is a certified design sprint facilitator as well as a Chartered Accountant. After working as a financial auditor for over 7 years at 2 different firms and countries, she made the transition to design strategy and sustainable fashion.
Following her move to Toronto, she started a business, AADÙN, that upcycles and repurposes traditional African hand-woven fabric. She also loves to travel and has a natural eye for landscape photography, which she showcases on her blog; Sights and Wanders. She is a self proclaimed multipotentialite, curious about the world, its habitants, and happenings.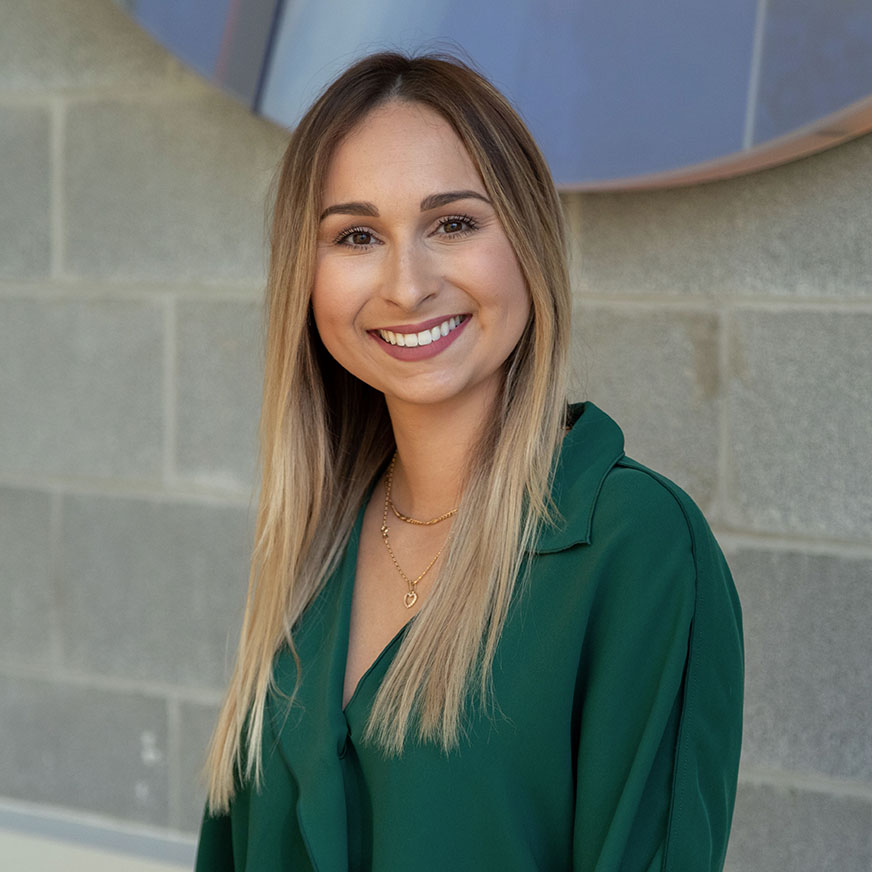 Amanda Nobile
Honours Bachelor of Arts, Global Studies and Social Entrepreneurship, Wilfred Laurier University
Amanda has recently completed her Undergraduate degree in Global Studies. During this program, she has worked on many projects and volunteered in the Refugee sector. This has included helping Syrian refugees integrate into Canadian society and teaching English to women.
Amanda has a passion for sustainable food and cooking, which led her to create Hungry Hippie, a start-up that caters plant based meals to students. She loves to travel, spending the past 6 months on an exchange program in the Netherlands and exploring Europe. In her spare time, Amanda loves to read, play with her dog and going outdoors.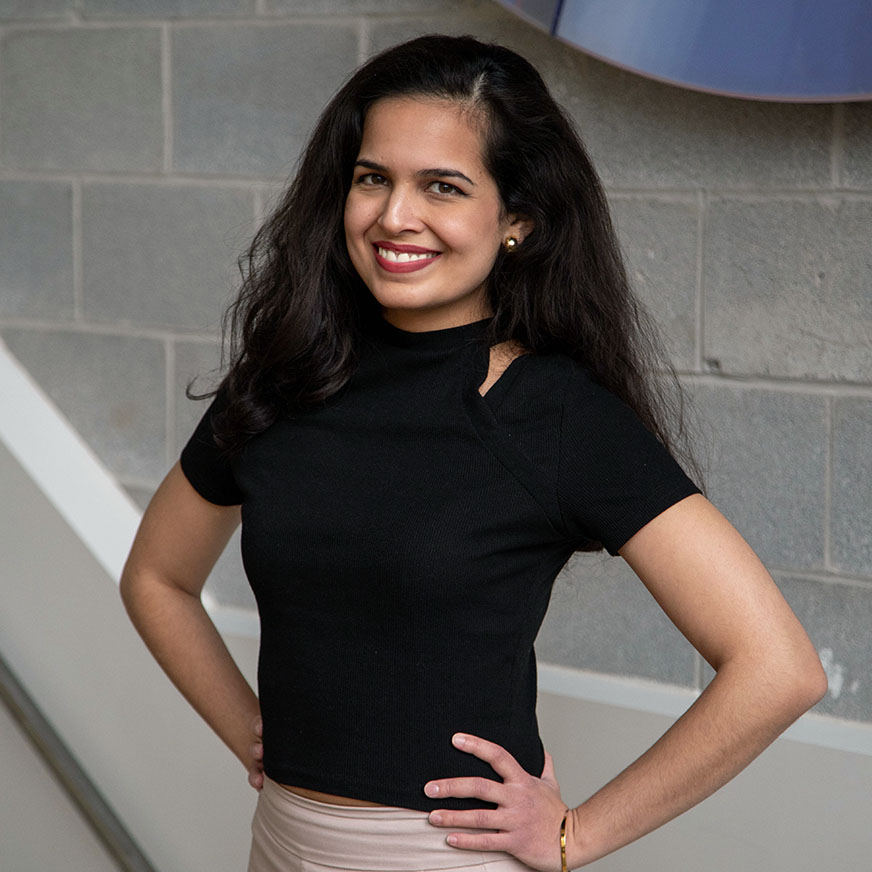 Andrea Facenda Fraino
Bachelor of Arts, Universidad Arturo Michelena; Photography Studies, C.C.E.A.S Valencia, Venezuela
Andrea is an Interactive and Graphic Designer and Illustrator from Valencia, Venezuela. She is a passionate artist who has always been interested in art and graphic design. Her work is very diverse, has a colourful signature and a creative style on logotypes, lettering, branding and animations. She develops concepts from the most pure minimalism to very detailed illustrations, all of this towards generating a message and a response that invites people to think and also remember them.
Andrea is also a teacher in Digital Graphic Design and Colour Theory at Universidad Arturo Michelena for 2 years. At the same time, she is very close to the music industry working on everything from logos to cd packaging and posters. She has participated in the clothing industry and accessory brand based on men and women. All of this is hand-made and stamped with serigraphy technique. At this moment, Andrea is living in Toronto working on new ideas to show her work and experimenting in new different fields to include in future projects.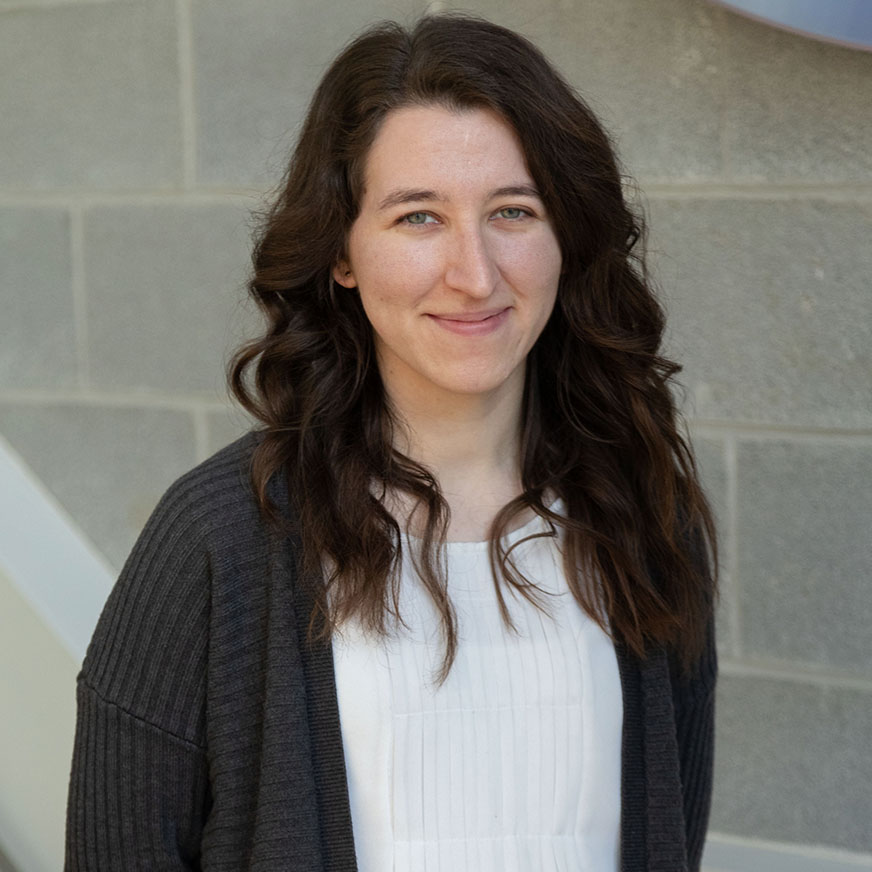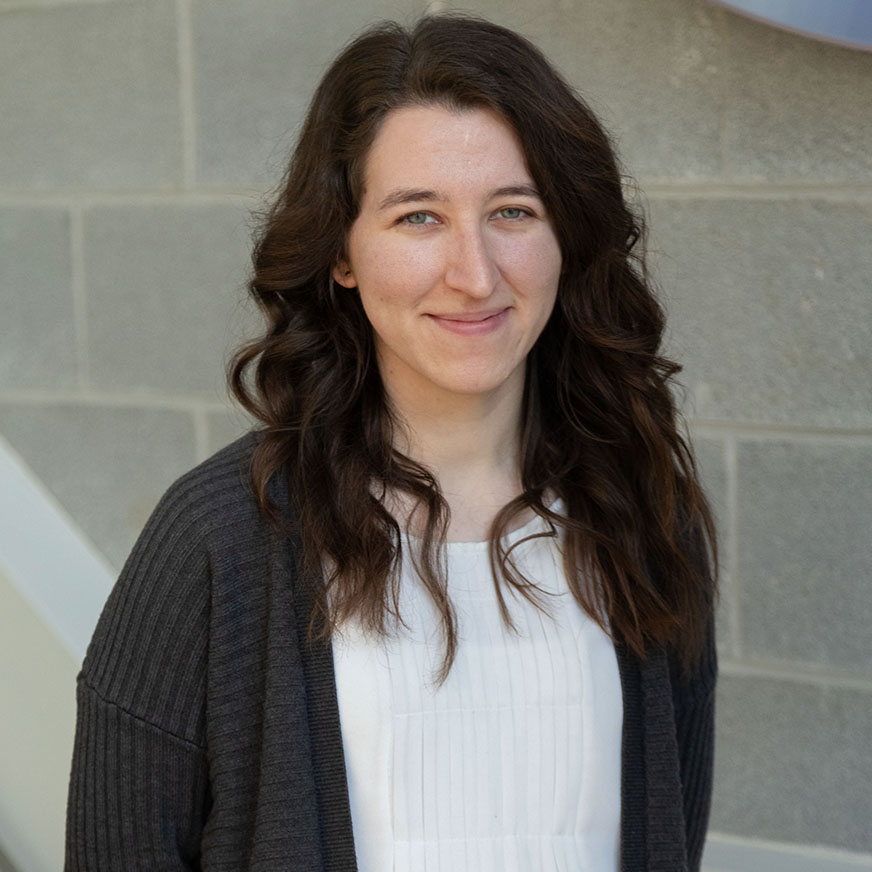 Céline Genest
Bachelor of Arts in Interior Design, Algonquin College
Céline is a spatial designer-turned-user experience (UX) researcher from Ottawa. After completing a Bachelor of Applied Arts in Interior Design at Algonquin College, she worked at the Canada School of Public Service designing office and learning spaces across the country. Her passion for crafting experiences, conducting research, and analyzing data led her to join the UX team, where she went from planning physical spaces to improving digital products and services. As a lifelong learner, Céline spends her evenings attending local meetups and taking courses in everything from Python and data visualization to sailing and woodworking.
She enjoys being outdoors, making things, and exploring new places. She is excited to join the IwB, with her goal of further developing her human centred design process and applying it to service design projects for good.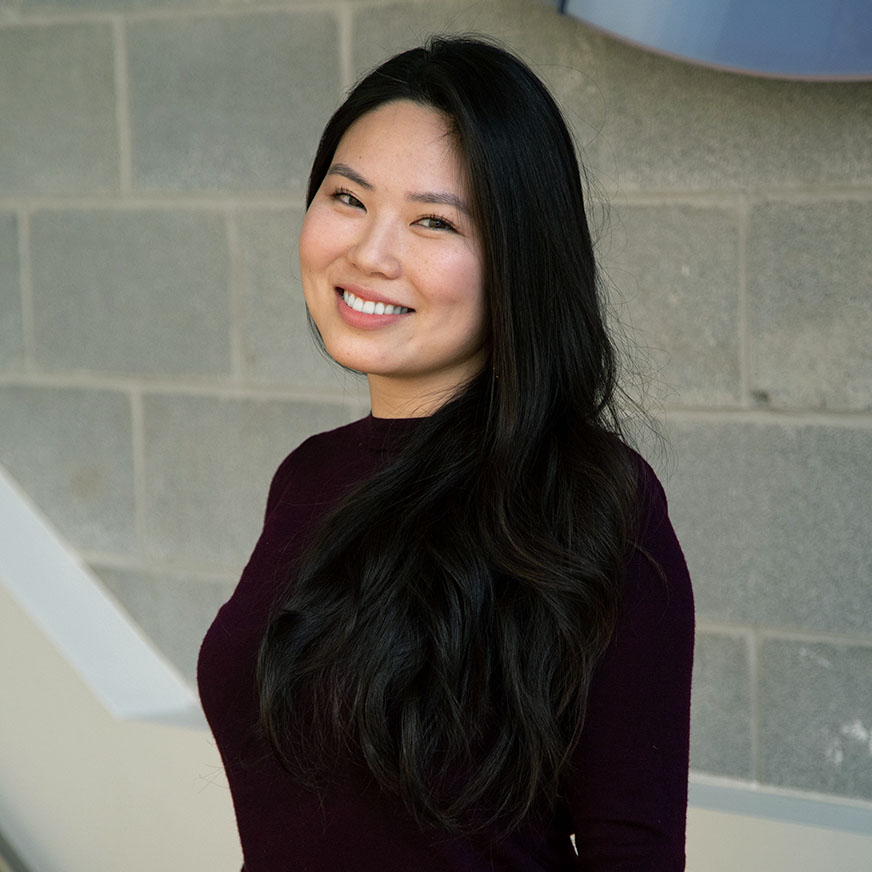 Eirene Keh
BSc, Human Biology: Health and Disease and Anthropology, University of Toronto; BSc, Medical Radiation Sciences, University of Toronto
Wanting to help others, Eirene chose to work in healthcare as a radiographer after earning double bachelor's degrees at the University of Toronto. Her tenure as the Lead Medical Radiation Technologist at Cleveland Clinic Canada allowed her to develop skills in managing a medical imaging department while working closely with caregivers and patients to provide quality, patient-centered Care.
Curiosity and a drive for personal growth led Eirene to discover design thinking through OCAD's continuing studies. She gets excited when imagining the potential for design thinking to produce large scale, positive, social change through empathy and user-research. Eirene hopes the IwB will enable her to develop the tools to further her exploration of human-centered design and solving wicked problems.
Eirene enjoys reading, traveling, attempting to replicate traditional dishes of the world, leatherworking, trying new things, and volunteering her time at Civic Tech Toronto with a project focusing on Civic Data Trusts.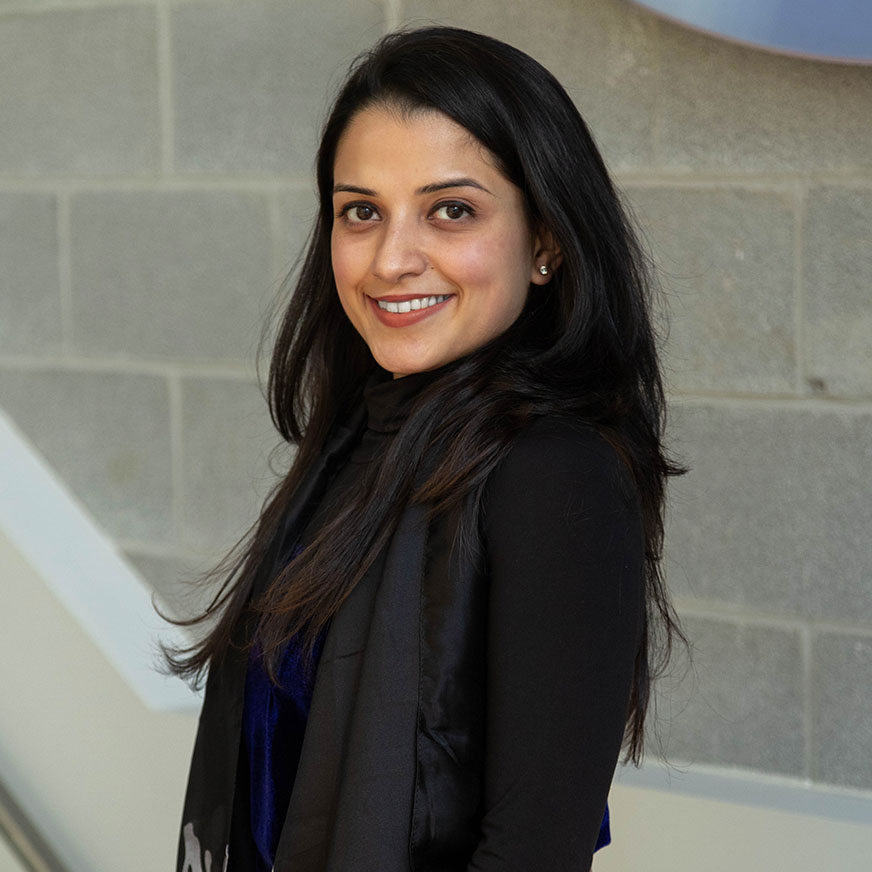 Hardeep Kaur
Master of Arts, English Literature, University of Delhi, India; Bachelors of Elementary Education, University of Delhi, India
Hardeep has over 7 years of experience as a Learning and Communication expert. Using Design Thinking and Learning Theories, she has created interactive, digital, and learner centered modules for various academic and professional contexts.
Over the years, her career also has given her diverse opportunities for working with various government and corporate stakeholders to bring in systemic and systematic reforms at the ground level. Fluent in English, Hindi, and Punjabi, Hardeep is in the process of becoming proficient in French. She loves to learn the origin of words and the history of languages. She is an avid collector of stories, which she documents in her poetry.
At IWB, she is looking forward to exploring the intersection of communication and design and working with real and virtual societies in ways that enable the creation of Smart Cities. She hopes that this experience will allow her to contribute to designing cities that encompass the best of both AI and Human communities.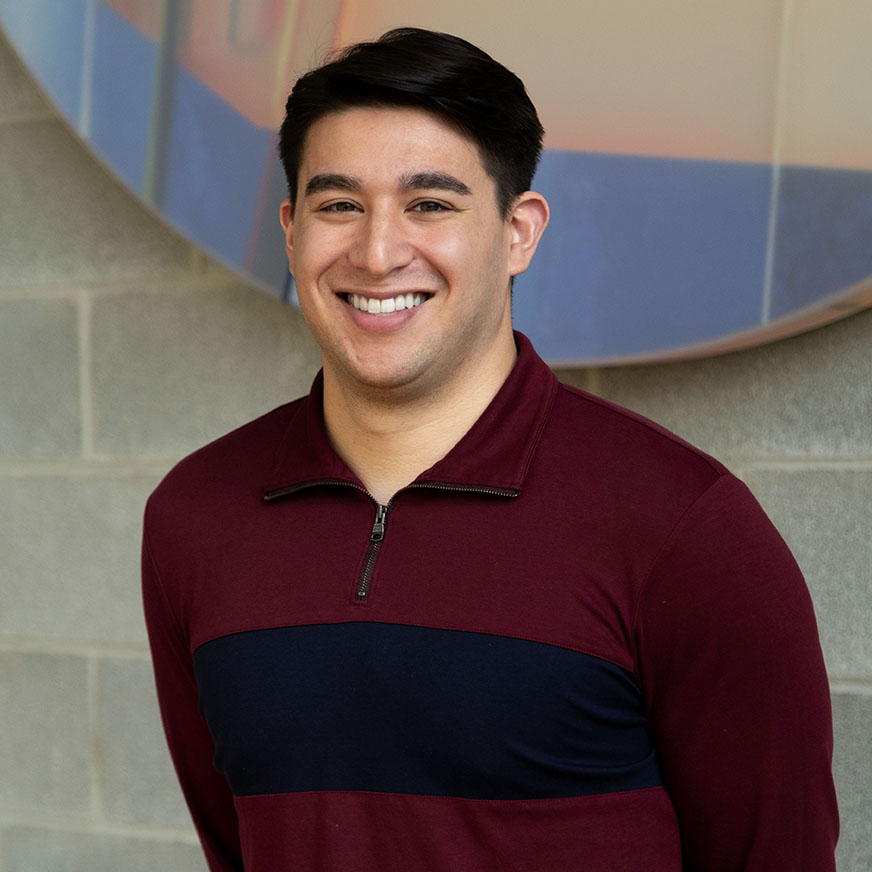 Jordan Yee
Honours Bachelor of Human Kinetics, University of Ottawa
Jordan's curiosity and passion for design is deeply rooted in his academic and personal experiences. He holds an Honours Bachelor of Human Kinetics from the University of Ottawa. He has additional education in the social sciences, health, fitness and cultural geography. Jordan's passion for design was recognized while taking a course in User Experience Design.
During his studies, Jordan balanced academic excellence with an eclectic range of volunteer experience. These experiences are intrinsically gratifying to Jordan, allowing him to be a socially conscious civic-minded contributor to the communities around him.
With a passion for travel, Jordan has found interest in exploring and experiencing how different cultural systems influence socio spatial constructs. Jordan grew up in a small Northern Ontario town which led him to develop a fascination for city living. He is enthusiastic about urban patterns, efficiency and architecture.
Within the IDS program, Jordan is looking forward to contributing his unique perspective by highlighting the importance of health and fitness integration within design strategies. Jordan is interested in the opportunity to cultivate large scale lifestyle impact through the perspectives of health and design.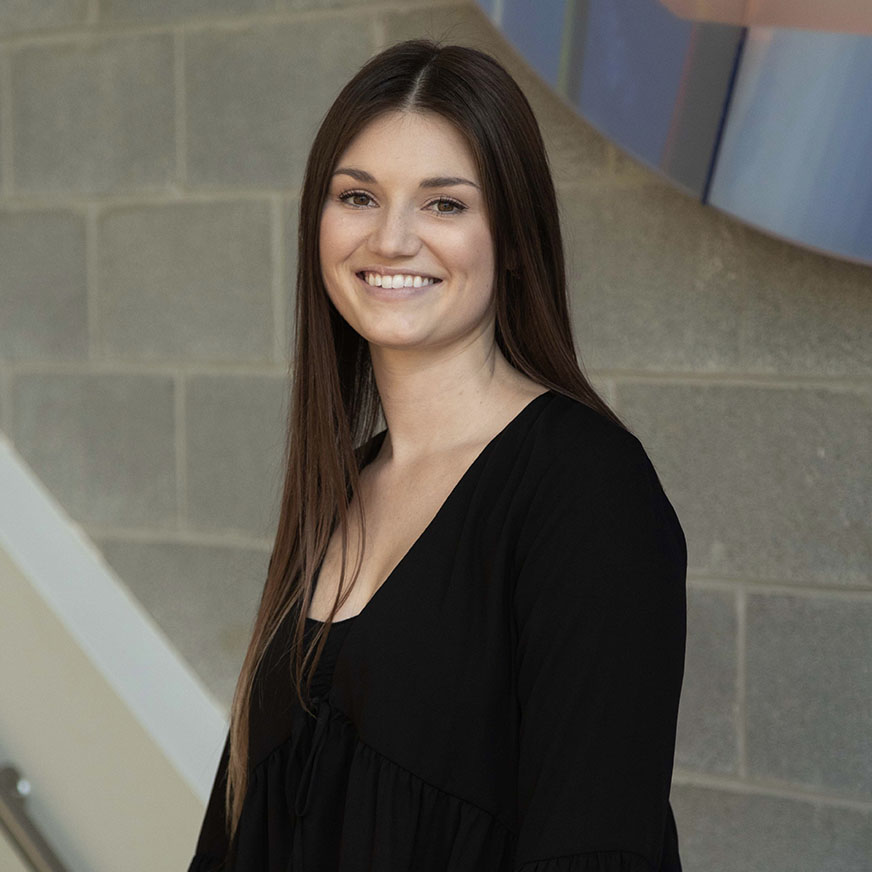 Maddy Lawrence
BA, Psychology (Minor in Social Sciences of Health), University of Ottawa
With a passion for community initiatives at a young age, Madalynne pursued a number of volunteer opportunities that inspired her academic journey.
At the University of Ottawa, she completed an Honors Bachelor of Arts in Psychology with a Minor in Social Sciences of Health. She was involved in a range of research activities. One of her most exciting ventures was to coauthor a published, peer-reviewed journal article which identified themes within service-use experienced by individuals who are currently or have previously experienced homelessness.
Her main interests include the built environment's impact on individual and collective wellbeing, the development of community services and the interplay between the two. Outside of professional life, Madalynne likes to take backpacking trips across Europe.
While in the IDS program, Madalynne hopes to learn from the expertise of peers and faculty as well as use her skillset to contribute to innovative, equitable, and community-driven solutions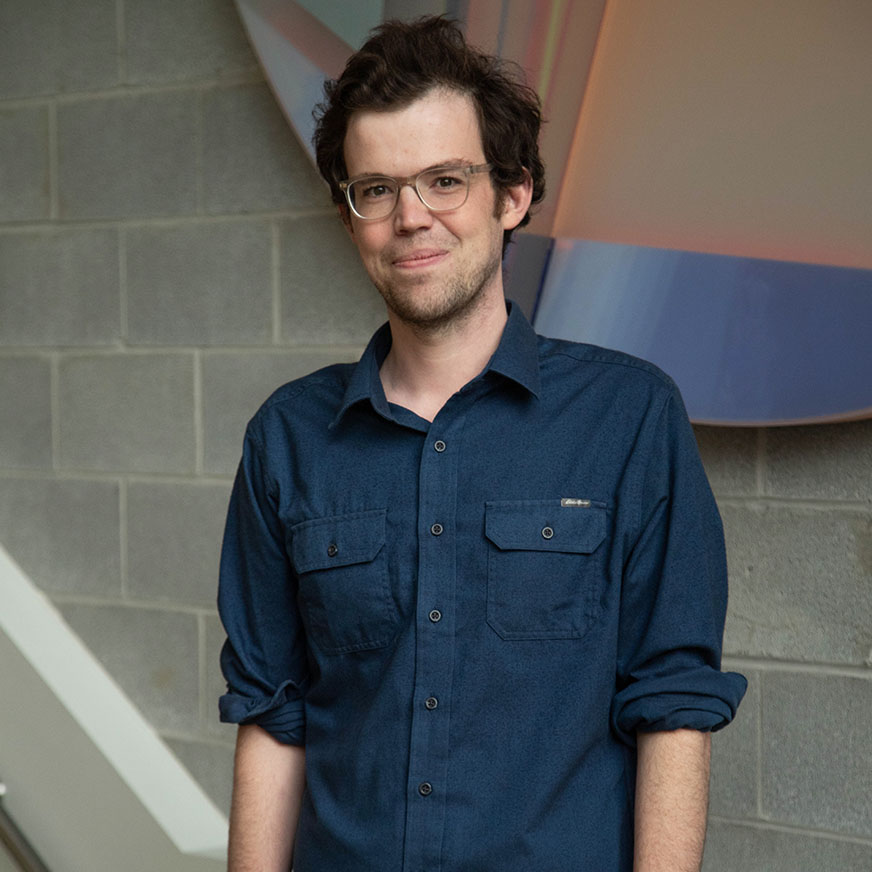 Max Thomson
Honours Bachelor of Arts, English and History, University of Toronto; Maine Media College, Filmmaking Certificate, Camden, Maine
Max studied English and History at the U of T. Since graduating he's worked in fundraising, marketing and video production for a variety of organizations including Stella's Place, The Mabin School and the Museum of Contemporary Art. He likes working on small flexible teams that are tackling interesting problems with alternative solutions. He is creative by nature, and believes that playfulness is one of the keys to success.
He enjoys collaborating with a diverse range of stakeholders, supporting their visions from design to delivery. He's an avid biker and recently self-published a photo book on traffic pylons.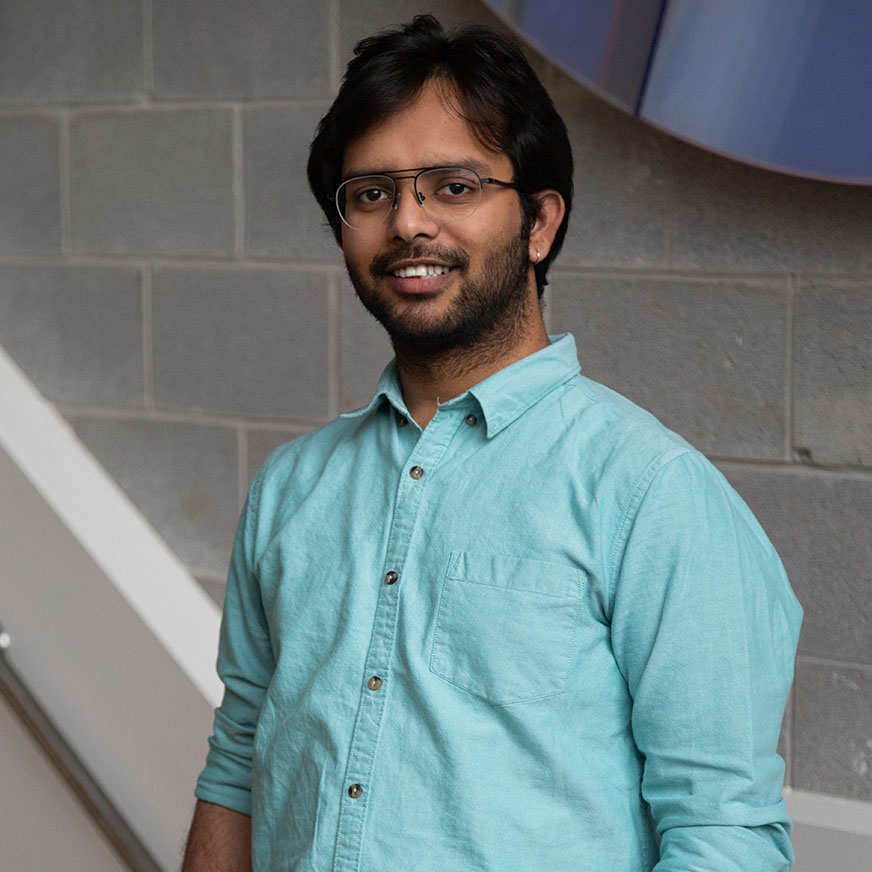 Nitesh Salwan
Bachelor of Architecture, Jamia Millia Islamia
Having graduated as an architect in 2015 and practicing for four years in India, working on projects of scales and natures ranging from residential interior design to mass-transit architecture, Nitesh has had a fair share of opportunities and challenges that have helped inform his interest in multi-disciplinary outlook towards design.
His most recent professional stint involved coordinating the design development of an interchange station for the Pune Metro with a bunch of experts representing different aspects of the same project; the experience leading to escalate his curiosity to explore collaborative design as a discipline of postgraduate study.
Nitesh looks at the world with a lens of optimism and a filter of possibilities. When not slogging away to meet critical deadlines, he can be found indulging in binge watching marathons, or gone missing exploring unknown places.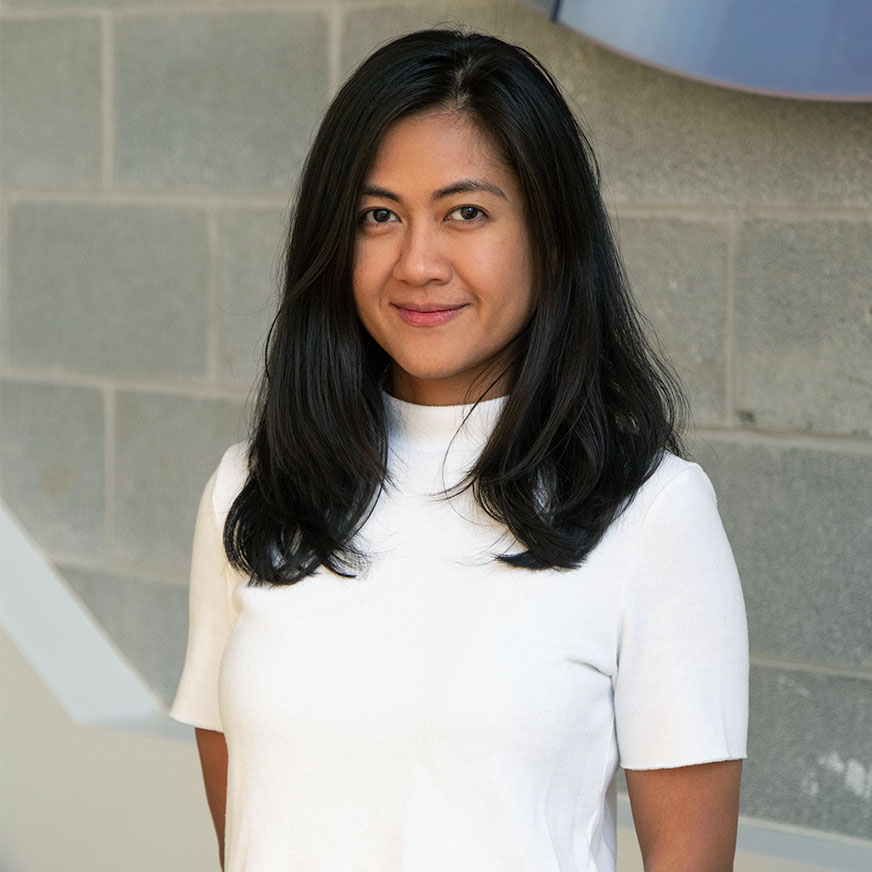 Rosanne Sauz
Interdisciplinary Studies, Communication and Psychology, Ateneo de Manila University, Quezon City, Metro Manila
Before becoming a fulltime student at George Brown College, Rosanne worked as a Technical Solution Planning Senior Manager at Accenture Philippines. She started her career in Information Technology as a SAP consultant. After 5 years in the role, she moved to an agribusiness company to become a business analyst supporting commercial processes in Asia. It is in this role that she was immersed in business operations. Gaining knowledge on both vendor and business sides, she moved to Accenture and joined the business development team as an SAP expert.
Curious of what else life has to offer, she decided to take Art and Design Foundation program to build a portfolio. It became a test of her preferences, skills and capabilities in a different industry. Joining the Interdisciplinary Design Strategy is her way of finding the balance between what she has learned to do and what she is interested in doing.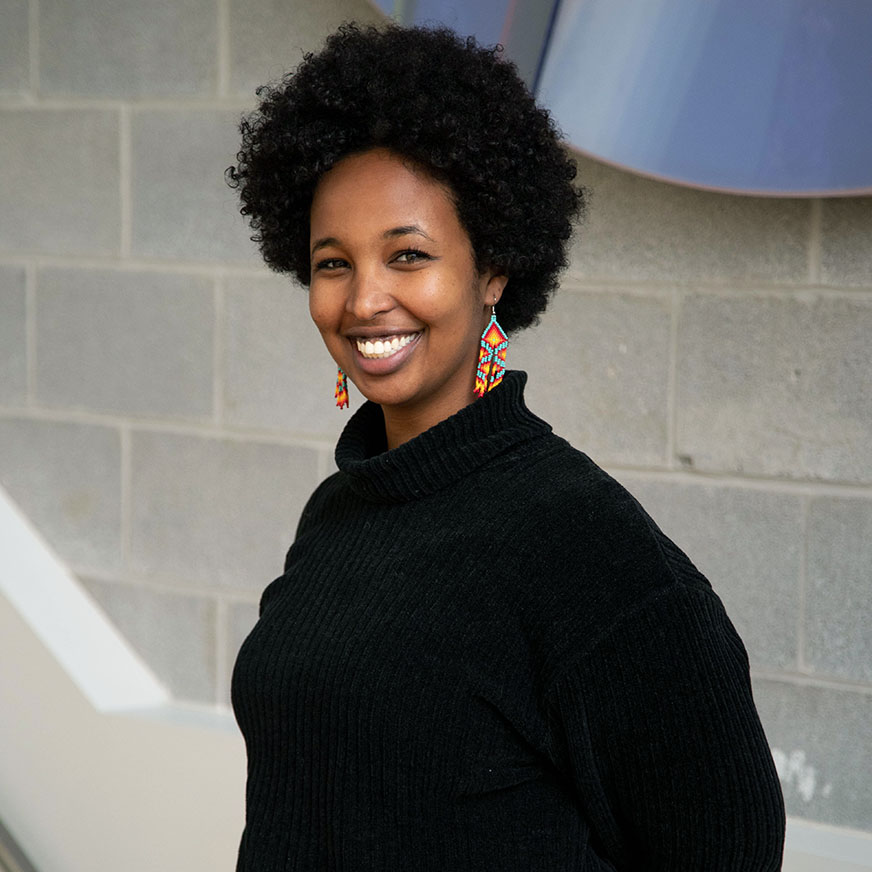 Samira Matan
BHSc in Health Sciences and Sociocultural Anthropology, Western University
Samira is a sociocultural anthropologist born and raised in Toronto and is of East African decent. Her curiosity for humans and why they do the things they do emerged continued to flourish throughout her life and has impacted her experiences and opportunities. Throughout her undergraduate studies, she conducted ethnographic research in medical anthropology in London, ON, Germany, Tanzania, and Madagascar. Her research and work includes helping launch a probiotic yogurt kitchen in Mwanza, Tanzania and learning how peanut butter is being used to eradicate child malnutrition in northern Madagascar.
After university, Samira worked for Operation Groundswell (OG) a Toronto-based non-profit that facilitates experiential education programs around the world with a specific focus on social justice issues. She worked for OG in Tanzania where she led programs for American and Canadian youth in social innovation and partnered with local health and education based organizations. After OG, Samira made her way back to Toronto where she began working for a civic tech non-profit, Code for Canada (C4C). It was during her time at C4C that Samira truly began learning about human-centered design and design research, specifically within the public sector.
Through her interests in social justice issues, Samira is dedicated to helping create a more inclusive world. She also enjoys travelling, food, timbits, reading, theatre, meeting new people, and sunshine.
Tanya Goyal
Bachelor of Design, Leather Goods and Accessories Design, Footwear Design and Development Institute (Noida)
Tanya Goyal is a design enthusiast. She has always been drawn to the arts and the process of creation. She enjoys exploring diverse ways of self-expression, and finds great inspiration in the creations of others. After completing her high school, She joined the four-year B.Des programme specialising in Leather Goods and Accessories from Footwear Design and Development Institute, Noida, India, where she was introduced to technical developments which governed her growth in the Leather Industry. To supplement her penchant for hands-on along with the theoretical base, she went on to pursue several projects, internships and co-curricular activities.
She presented her design collection at Indian International Leather Fair, Chennai, India. Thereafter she worked as a Product Merchandiser enhancing her knowledge in the Leather Garment sector dealing with luxury brands. With a sudden change of her desire to learn about the Digital Marketing world she headed a team of Marketing and Design as a Project Manager for a Real Estate company. She is also an active Volunteer for 'The Art of Living' where she conducts orientation programs for youth and families on wellness and happiness. Besides her time at work she enjoys moonlight strolls on the beach, climbing mountains and most of all Dancing.