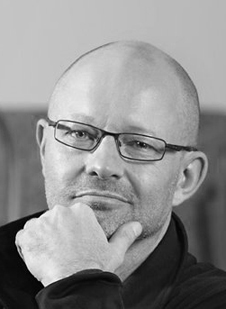 Miles Keller
Industrial Designer
Miles has over twenty years of professional experience as an industrial designer. His company, Dystil, is based in Toronto, Ontario, Canada and provides services in all facets of the design process. Clients have included Allseating, Arconas, Corning Glass, Herman Miller, Keilhauer, Nienkamper, Teknion, The Getty Museum, Umbra, and Zenon Environmental. He has a degree in industrial design from the Ontario College of Art and Design (OCAD) and a BA from the University of Calgary. He has also studied architecture at the University of British Columbia.
He has served on the boards of the both the Financial Post Design Effectiveness Awards and the Humane Village international design conference. Miles was also president of the Association of Chartered Industrial Designers of Ontario (ACIDO) for four years (1996- 2000). He is currently a member of the faculty at The Institute Without Bounderies (IWB) and The Ontario College of Art and Design University (OCADU), where he teaches industrial design at the undergraduate level.
Miles is one of Canada's most highly regarded industrial designers and his work has been widely recognized, including the ID Magazine Annual Design Review (1989), the IDEA Awards (1997,2005), the Virtu Canadian Design Awards (1995, 6, 7, 8, 9), the IIdex/NeoCon Canada Awards (2002), the Best of Canada Design Awards (2002), and the Good Design Award (2002, 2003, 2004, 2005).
In 2006, MKDA received a silver IDEA award, as well as a silver Design Exchange Award, for the "ZW1000 municipal water filtration system" by Zenon Environmental. The IDEA awards, sponsored by the Industrial Designers Society of America and BusinessWeek, are recognised as "the world's most prestigious and coveted design accolade". Recent awards include a silver Design Exchange Award for MMA sports equipment for Reevo of Waterloo, Ontario.
Courses
DESN 4004 Design Project: Product
"Instead of more design for today, we need less design for tomorrow."
– Miles Keller, Faculty, Institute without Boundaries